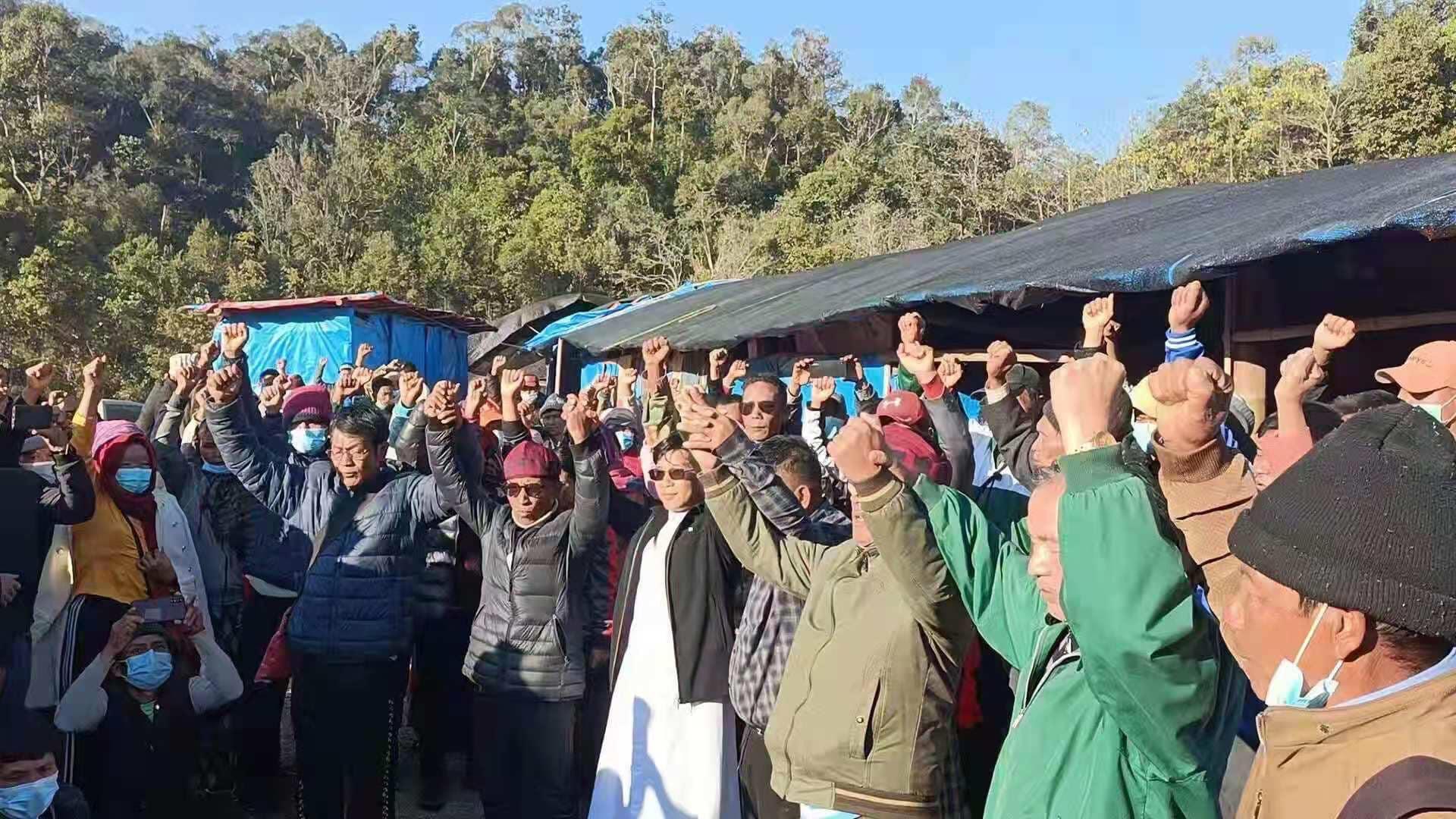 Wunpawng Mungdan Shanglawt Hpung KIO asuya ahkang hte N Ba Pa, Dingsing pa ginra hta ga sau (Rare Earth) htu shaw ai lam hpe tsep kawp jahkring kau na matu, ginra masha ni shawa n gun madun let ning hkap nga ma ai re.
Dai ni, January 16 ya shani kalang bai, Manmaw ginwang, N Ba Pa, Dingsing Pa ginra mung shawa yawng marai 200 Jan shanglawm let, Ga sau htu shaw na matu galaw nga ai bungli dabang shara hta nan sa let, shawa n gun madun ning hkap wa ai lam chye lu ai.
"Dai ni gaw, Hpyen yen na ni mung tsawm ra mi lawm ai, KBC gaw Manmaw ginwang ningbaw wa ma lawm ai. Manmaw Jau ginwang ni ma lung wa ai. Nmawk Jau ginwang ni ma sa ai. Ban hkak Jau ginwang ni ma sa ai. KIO gaw lu galaw hkra gaw ngu ai da raitimung gara hku byin wa na atsawm n chye ai." nga nna Dingsing Pa ginra masha langai KNG hpe tsun dan ai re.
Lai wa sai bat 6 ya, January 13 ya shani hta mung, ginra mung shawa 200 jan, shawa n gun madun wa sai rai nna, dai ni mung kalang bai, Buga hpung ningbaw ni, hpyen yen mung shawa ni, mare masha ni yawng marai 240 Jan hte, Kalang bai shawa n gun madun ninghkap ai re lam chye lu ai.
Dai sha n ga, n dai ginra ni hta, Ga sau htu shaw ai lam tsep kawp jahkring ya na matu, KIO Ginjaw rung de mung, ninghkap laika bang ai lam nga ai hpe chye lu ai.
Ga sau htu shaw ai lam gaw, tu matu hkrung mahkrung hpe hten za htum mat shangun mai ai majaw, dai masing hpe tsep kawp jahkring lu hkra ninghkap ai re nga, Dingsing Pa ginra masha langai KNG hpe matut tsun ai re.
"ya n dai hpe gaw, kaja wa nan ninghkap lu hkra galaw na matu, anhte ni gaw dai hku na nan, myit tawn da sai re. n dai gaw n kaja ai re yawng hkra chye ai. Dai ni anhte asak aprat kaba sai ni chyawm shi hkrai shi lai mat sai rai. Woo anhte kashu kasha ni a matu, galu gaba hkra sa wa na lam hta dut dang wa ai lam law law byin ai majaw, buga masha ni, gai dawng gai da ma hkra gaw, mung shawa yawng, nga yak jam jau wa ai baw re ngu ai hpe yawng chye na hkrawn hkrang mat ai re majaw, Dai ni n dai zawn rai ninghkap nga sai ka re." tsun ai re.
N dai lam hte seng nna, KIO Ginjaw shiga dap lit hkam, Du kaba Nhpang Naw Bu hpe KNG kaw nna, Ph the matut mahkai san ai shaloi, Sinpraw ginwang ginjaw de na mung, Jahkrup bawng ban nga dingyang re majaw, dai ngut yang she ginjaw de du na re majaw, dai ni du hkra gaw, hpa mahtai n lu shi ai lam sha tsun wa ai re.
Mai Ja Yang hte Loije Lam lapran na, Gau Ri krung hta mung, ginra masha ni hpyen yen mat ai hpang ginra lamu ga hpe KIO hte miwa Lauban Company ni Ga sau htu shaw sha kau sai re.
Ya matut nna mung, N Ba Pa, Ding Sing Pa ginra hta Gau sau htu shaw na matu Lamu ga htu chyam ai lam ni, ginsum gap da ai lam hte Arung arai yawng htaw sa da nna, Ga Sau htu sana Ri Ri rai nga sai majaw, Ginwa masha ni mung, Shawa n gun the Ja Ja ninghkap wa ai lam rai nga ai.
KIO gaw, Dingsing Pa ninghtawn kata kaw, Ga sau htu shaw ai lam malawng galaw na matu gya nga ai sha n ga, Sadung bum ninghtawn hte Bum sen bum de mung Ga sau htu na gya wa ai lam ni nga taw sai nga, Ginra masha ni tsun ai re.
Mungshawa kam hpa ai KIO asuya kaw nna, Mungshawa makam yawm hkra n galaw ging ai zawn, mung shawa n sen hpe madat nna, Asuya bungli hkrak tup galaw ging ai lam Kachin CSO wuhpung langai hta shamu shamawt bungli galaw nga ai mung shawa langai gaw shi a ningmu hpe n dai zawn tsun ai re.
"Anhte buga mare masha ni a, Opinion (Ningmu) ni hpe mung hkungga ging ai ngu mu ai. Mungshawa myit makam yawm magang, anhte a asuya magam bungli ni yawm magang rai na, Asuya langai ngu ai gaw, Mungshawa hpe makawp maga na matu, Mungshawa hpe madi shadaw na matu, nga ai asuya rai nga ai the maren dai magam bungli ni hpe mung manu shadan, mung shawa hpe mung manu shadan hkungga la ra rai nna, Mungshawa n sen hpe atsawm sha madat nna, htap htuk ai hku hparan hpareng galaw mat wa jang gaw, grai htap htuk na re ngu tsun mayu ai."
KIO uphkang ginra, Sinpraw Ginwang Ginjaw, Manmaw- Mai Ja Yang- Loije- N Ba Pa, Ding Singpa ginra ni hta, KIO asuya hku nna, Miwa Lauban Company ni law law hpe jashawn let Ga su htu shaw nga ai gaw 3 ning jan wa sai rai nna, ya kalang bai Dingsing Pa ninghtawn kata, matut htu shaw na hkyen nga ai lam rai nga ai law.