Shiga
Hpung masum ICC-ICJ madi shadaw ai hpe bai dawm na, Miwa dip n-gun jaw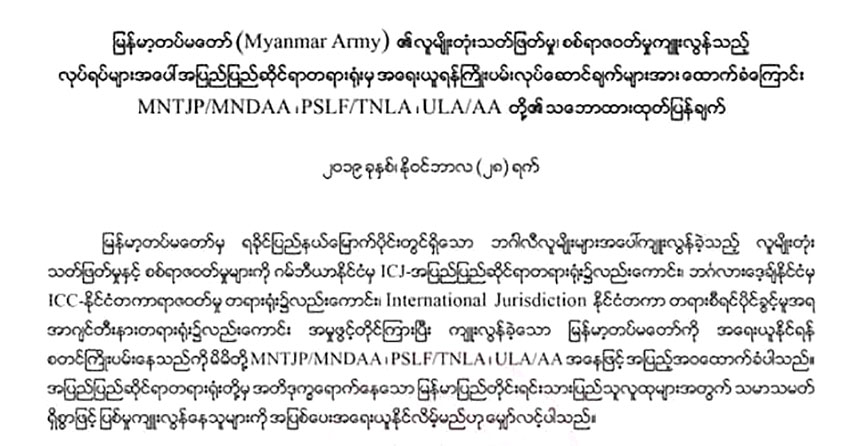 Mungkan tara rung ni, ICC hte ICJ hta Myen mung hpe jep san wa na lamang ntsa shanhte hpung masum 'madi shada ai lam ndau tawn ai' hpe, lawan ai hku bai dawm kau na matu, Miwa asuya dip n-gun jaw wa sai lam chye lu ai.
Ndai lam hpe, Dec. praw 5, bat Mali Ya shani, Miwa asuya salang ni, Myen-Miwa ga jarit NDAA (National Democratic Alliance Army) ginjaw Mongla kaw Dingdung Daw Daphpawm na Rahkai AA, Balawng TNLA hte Kokang MNDAA, salang ni hte hkrum ai shaloi tsun ai re nga, daphpawm shiga lawk tsun ai re.
"Mani (Dec. 5) Mongla de Miwa asuya ni du sa nna Wa (UWSA) ni pyi dai hpe ninghkap ai nanhte hpung masum dai zawn ndau ai hpe naw dawm kau mu ngu nna shanhte hpung masum salang ni hpe sa tsun ai da" nga nna Myen-Miwa ga jarit e nga ai daphpawm malawm salang langai, Jinghpaw Shiga Dap KNG de tsun ai re.
Sa du dip n-gun jaw ai Miwa asuya salang wa kadai re ai hpe gaw n chye lu shi ai.
Daphpawm na Wunpawng Mungdan Shanglawt Hpung (KIO) n lawm ai sha, Rahkai, Balawng hte Kokang, hpung masum pawng nna, ICC (International Criminal Court) hte ICJ (International Court of Justice) tara rung ni hta Myen mung tawt lai ai lam ntsa jep san ai lamang ni hpe 'tsepkawp madi shadaw ai lam', November 28 hta ndau dat ai re.
Rahkai mungdaw Rohingya amyusha ni ntsa amyu shamyit masing (genocides) galaw ai majaw, OIC (Organization of Islamic Cooperation) mungdan ni a gawng malai, Gambia mungdan tara jawat tawn ai hpe du na bat, Dec. 10-12 hta, shawa jep san ai lam (public hearings) galaw hpang wa na matu nhtoi masat tawn ai re. Dai lamang de Mungdan Hpaji Jaw, salang jan Awng San Su Chyi woi ningbaw let sa du ningdang na matu hkyen tawn ai re.
The Hague ICJ de rawt na mahka, Slgj. Su Chyi hpe Miwa Mung Kongsi salang hte Maigan Kyithkai Dap, Hkringmang Slg. Wang Yi gaw Dec. 7 ya shani Naypyidaw kaw laklak lailai sa du hkrum shaga wa sai re.