Shiga
Kasen Bum Majan Majaw Hprawng Yen Ai Mungshawa Ni Garum Ntum Ra Ahkyak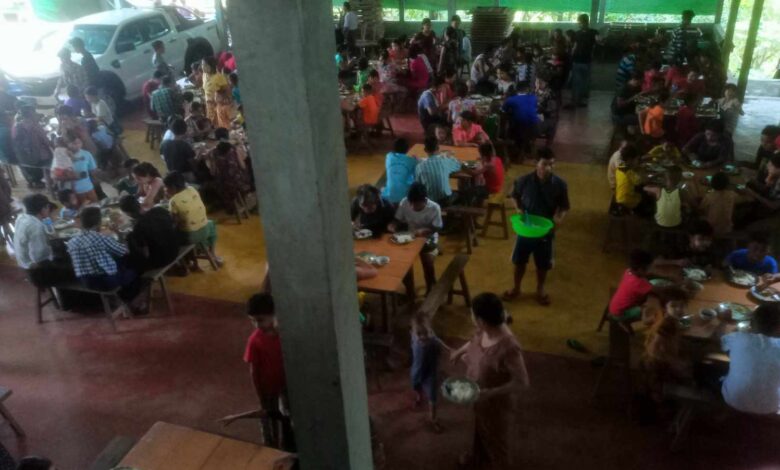 Hpakant Kasen bum majan a majaw, mare kahtawng 4 daram na mung shawa marai 1,000 jan, ya ten Sengtawng, Mawshan hpungkyi jawng kaw sa du hprawng shingbyi nga nna, dai ni a matu tsi mawan garum ningtum ra ahkyak taw nga ai lam chye lu ai.
August praw 7 ya jahpawt, Nammaw hte Tamahkan lapran na Kasen bum Myen hpyen dap hte Sezin hkrai noi makau na SNA hpyendap hpe KIA dap ni sa htim gap gasat zing ai hpang, majan a majaw, dai makau grup yin mare kahtawng 4 na mung shawa hkying mi jan Mawshan hpungkyi jawng hta sa du machyu shingbyi nga ai lam, Mawshan Hpungkyi jawng na lit nga ai, hpungkyi langai KNG ya na zawn tsun dan ai re.
"ya hkyak hkyak gaw, dai hpawt masa loi zim na sai shadu nna, n kau gaw wa mat ai, anhte mung hkum wa shi gaw ngu ai. raitim, shanhte wa na nga majaw wa mat ai. dai she myen hpyendap ni n bungli the bawm bai wa jahkrat, lak nak kaba mung bai gap re majaw, grau sawng mat nna, tsawmra bai hprawng yen jat wa ai. ya anhte hpungkyi jawng kaw masha hkying mi jan du mat sai. Kalang ta ta du wa na, kahtet hpoi hpoi re taw ai majaw, jahpan gaw atsawm rai n lu hta shi ai." nga nna tsun ai re.
Myen hpyendap maga August 8 shana de maga hkying 3 daram aten hta, Jat n bungli 2 hte bawm 3 lang bai wa jahkrat bun nna, lak nak kaba ni the mung gap bun ai majaw,  mung shawa ni bai hprawng yen law wa ai lam matut tsun dan ai re.
Sengtawng, Mawshan Hpungkyi jawng hta yen machyu nga ai hpyen yen hkying mi jan gaw, Nammaw, Tawng kaw, Kawngsan, Mawlahkye, dai mare kahtawng hkan na ni re lam chye lu ai.
Ya ten dai hpyen yen ni hpe hpungkyi jawng wang hta shara gan lajang da ya lu tim, masa hta hkan nna masha grau law jat wa yang shara yak wa na masa nga ai zawn, ya ten madung gaw malu masha the tsi mawan ra ahkyak nga ai lam, matut tsun ai re.
"Ndai kaw madung gaw, lu sha madung ahkyak rai nna lu hka san hte tsi mawan ni mung ahkyak ai. madung gaw gara hku byin wa na re kadai n chye shi ai." nga tsun ai re.
Wunpawng Mungdan Shanglawt Hpyendap KIA Dapba 9 npu Dung 6 hte Dung 26 dap ni kaw na, Myen hpyen dap a ahkyak ai dap shara ni hpe sa htim gap gasat zing kau ai hpang, Hpakant ginra de hpyen masa grau shaja hkat wa na masa nga ai lam, ginra masha ni tsun maram da ai re.